It is designed for cooling the one CO2 glass laser tube under 150W of the laser engraving and cutting machine. (Its emitting rate is higher than 60 %.)
Cooling capacity is 800W.
Have design patent Certificate, CE and RoHS Certificate.
This Water Chiller has been sold largely to Europe, South America, Asia and other markets.
Economic cooling equipment, easy to install and operate, compact and easily movable.

Features:
• It is suitable for cooling the laser tube under 150W, and the temperature can be adjusted precisely.
• You can choose different models according to local voltage and frequency.
• It can extend the using life of laser tube and ensure the engraving effect better.
• Small thermolysis water cooler, energy saving, long working life and simple operation
• With completed water flow and over high temperature alarm functions
• It can control the water temperature, precision is ±0.3℃, which provide stable working conditions for laser devices.
• This series of water chillers adopt intelligent controller, which need not adjust the control parameters under normal
circumstances, it will automatically adjust control parameters according to room temperature changes, to meet the cooling requirement.
• Multiple alarm function: compressor time-delay protection, compressor overcurrent protection, water flow alarm and over high / low temperature alarm;
• Specific disconnection alarm securing protection.
• Enclosed water tanks, water used for a long time.
• Equipped with alarm output port, can quickly protect sensitive components.
• High cost performance, low failure rate.
• Multiple power specifications; CE approval; RoHS approval.
Specs:
Model

CW-5000

Power Supply

AC 1P 220V, 50Hz

Current

1.4 - 2.1A

Compressor Power

0.3KW

0.4HP

Refrigerating Capacity

2361Btu / h

0.692KW

595Kcal / h

Refrigerant

R – 134a

Refrigerant Charge

300g

Precision

±0.3℃

Tank Capacity

6L

Reducer

Capillary

Protection

Over current protection for compressor, flow alarm, over temperature alarm

Pump Power

0.03KW

Maximum Flow

10L / min

Maximum Pumping Lift

10M

Inlet and Outlet

External Dia.: 10mm brass connector

Alarm function:
| | | | | |
| --- | --- | --- | --- | --- |
| E1 | E2 | E3 | E4 | E5 |
| Over high room temperature | Over high water temperature | Over low water temperature | Room temperature sensor failure | Water temperature sensor failure |

Remark:
When alarm occurs, the error code and the temperature will be alternately displayed.
In alarming state, the alarm sound could be suspended by pressing any button, but the alarm display remains
until the alarm condition is eliminated.

Thermostat parameters list:
Order

Code

Project Setting

Range

Factory

Setting

Notes

1

F0

Temperature setting

F9 – F8

25

Constant temperature control effecting

2

F1

Temperature difference values

-15 - +5

-2

Intelligent control effecting

3

F2

Cooling hysteresis

0.1 – 3.0

0.8

4

F3

Way of control

0 - 1

1

1: intelligent

0: constant temperature

5

F4

Alarm for over high water temperature

1 - 20

10

6

F5

Alarm for over low water temperature

1 - 20

15

7

F6

Alarm for over high room temperature

40 - 50

45

8

F7

Password

00 - 99

8

9

F8

The allowed highest water temperature

F0 - 40

30

10

F9

The allowed lowest water temperature

1 – F0

20
Detail
Temperature controller panel:

Under normal circumstance, the new intelligent temperature controller does not need to adjust the controlling parameters.
It will self-adjust controlling parameters according to room temperature, guaranteeing to meet cooling requirements for machines.

Alarm Function's Description: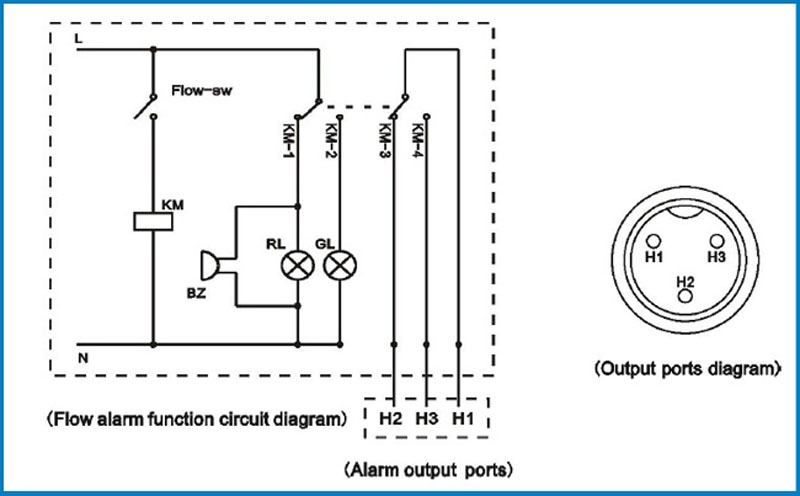 Flow alarm and output ports:
In order to guarantee the equipment will not be damaged while cooling water circulation is out of control, CW-5000series chillers possesses an unique low flow alarm protection.

The cooling water circulation loop alarm causes and the work of the state table
Normal Flow

Indicator

Flow Alarm

Indicator

Buzzer

Output Ports

Hi, H2

Output Ports

H1, H3

Circulating pump works properly

ON

OFF

NOT RING

DISCONNECTION

BREAKOVER

Blocked cooling water circulation loop

OFF

ON

RING

BREAKOVER

DISCONNECTION

Alarm of water shortage

OFF

ON

RING

BREAKOVER

DISCONNECTION

Faulted circulating pump

OFF

ON

RING

BREAKOVER

DISCONNECTION

Power interruption

/

/

/

BREAKOVER

DISCONNECTION

Note: The flow alarm is connected to the normally open relay and normally closed relay contacts, requiring operating current less than 5A, working voltage less than 300V.


Comparison
Usage
Industrial cooling machine's installation is very simple, the new machine for the first time using, you can install it as following steps.
A.Open the package to check if the machine is intact and all the necessary accessories are completed.

B.Open the injection port to feed cooling water.
Observing the water level gauge and adding water slowly, be careful not to have the water overflowed! For the cooling of carbon steel equipment, the water should be added an appropriate amount of anti - corrosion agentia. Working in cold north area, it's better to use noncorrosive antifreeze fluid.

C.According to system conditions, please connect the water inlet and outlet pipe well.

D.Plug in power, turn on the power switch. (Do not start up without water in the water tank!)
(1) Power switch turned on, the circulation pump of the chiller starts working. The first time of operating may cause more bubbles in the pipe leading to a flow alarming occasionally, but running for a few minutes later, it will go back to normal.
(2) After the first boot, you must immediately check whether the water pipe leaks.
(3) Power switched on, if the water temperature is below the set figure, it is normal that fans and other components of the machine do not work. The temperature controller will automatically control the working conditions of the compressor, magnetic valve, fans and other parts based on the set controlling parameters.
(4) As it takes a longer time to start the compressor and other components, according to different conditions, the time is range from seconds to minutes, so do not turn off the power and again on frequently.

E.Check the water level in the water tank.
The first startup of the new chiller empties the air in the water pipe, leading a slight water level decline, but in order to keep the water level in the green area, it's allowed to add adequate water again. Please observe and record the current water level, and inspect it again after the chiller running for a period of time, if the water level drops obviously, please re-inspect the water pipeline leakage.

F.Adjust parameters of temperature controller.